Indoor Photography by Melissa Nyquist. Outdoor Photography by Isabelle Saxton. Modelling by Emily Frisch, Carter Graves, Grace Kayar, Asher Gillman.
HIP BEAT
 is based on the
collision
of, the subcultures, the Beat Generation and Hip Hop. Both subcultures are about one's intellectual property and how they express themselves verbally. An element of Hip Hop that grabbed my attention was the
humour
behind the self-promotion of MCs with photos of their faces and names on clothing. I wanted to bring this humour up again through extremely oversized sweatpants, and dollar signs, which depicts materialistic attraction and distraction. I began to merge colourful oversized silhouettes with simple, baggy forms and muted colours to create the HIP BEAT look. The Beat Generation is centred around a
lifestyle
of finding
self-fulfilment
. Therefore, the crucial element of HIP BEAT, for me, is the
environmental responsibility
and
sustainability
initiatives that I took to make this collection as
planet and people friendly
 as possible. My garments are made out of recovered
waste
fabric and organic yarn. 
Please see the detailed breakdown below for sourcing information.​​​​​​​
Cinematography by Stella Collins.
The words in the machine knitted jumpers are derived from the random passage of thoughts from brain to mouth. The sentences are obscured so that certain words grab the individual viewer's attention for reasons unique to them. If the viewer did happen to read an entire sentence, they should be able to interpret it in at least two different ways:
"I want it to shake my soul."
"Drink more." 
"I can't believe this is really happening."
"The lights are vibrating."
"I am fine."
"When will we be in our right mind?"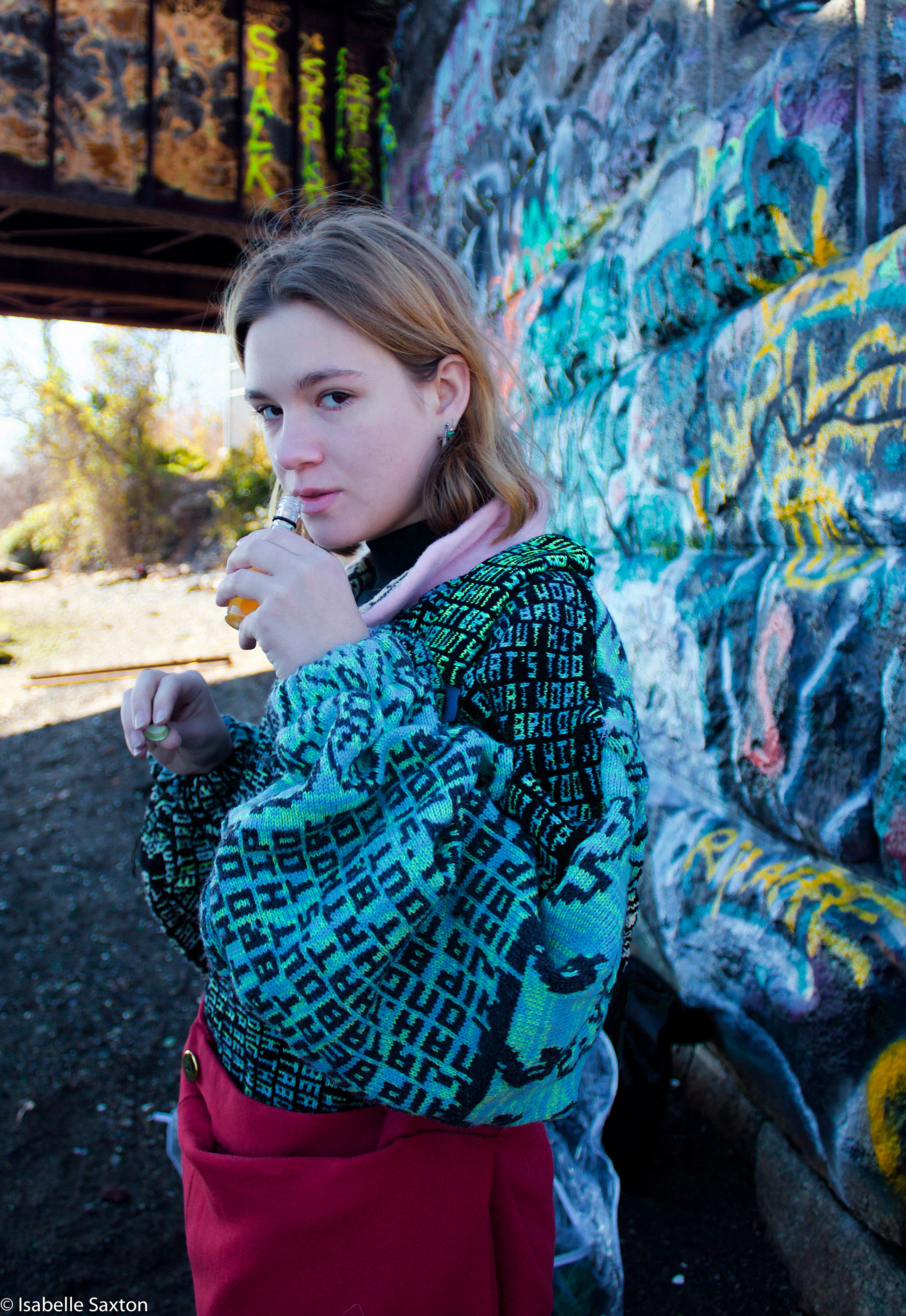 Black , white and grey yarn : 
Green Line 
100% organic wool 
Made by Jagger Spun based in Springvale, Maine, U. S. A.
Global Organic Textile Standard certified

Blue yarn : 
Queensland Collection United
55 % lambswool
45 % cotton
Non mulled wools
Made in Turkey
Confidence in textiles. Tested for harmful substances 

Fluorescent yellow yarn :
Recovered by FabScrap in Brooklyn, New York

Pink yarn : 
Annabel Williams
100 % Folkland Merino 
Naturally hand dyed with madder root
Made in the U. K. 
Responsibly sourced wool

Dark blue and striped fabric :
Recovered by FabScrap in Brooklyn, New York

Red fabric :
Recovered by FabScrap in Brooklyn, New York
Naturally dyed by Isabelle Saxton with organic red cabbage and baking soda

Pink Fleece :
Sourced from Riverview Fabrics, this fleece is made out of recycled plastic bottles collected from the streets and canals of Haiti. The supply chain is managed by Thread International

Denim :
Patchwork of jeans found at Savers in Providence, R. I.